The Rent Is Too D*mn High…Or Is It?  Way back in 2009,  Jimmy McMillan made waves and became a viral sensation when he ran to become the Mayor of New York City. His platform: "The Rent Is Too Damn High". You were bound to have heard about him, and if not check out the video below, maybe it'll refresh your memory.
Recently, I was reminded of McMillan after the CBC's Shannon Martin began reporting about sky high rents after she received a notice from her landlord stating her monthly rent was about to go up $1000, and the Wynne government's recent "Ontario Fair Housing Plan".
Now, when McMillan ran for Mayor, the prices of rent in New York had skyrocketed and until this year had been increasing every year. As of April 2017, average apartment rent within New York is $3074!!!,  where a one bedroom apartment rents for $2732 a month on average and two bedroom apartment rents average $3510!! Granted these prices pertain to Manhattan, however uptown in Harlem prices have not faired better; prices have increased to an average of $2100 and across the river to the East in Brooklyn prices are similar.
The thing about NYC is that half of the NYC housing inventory is artificially priced below market prices, resulting in prices increasing significantly on homes which are not regulated.  Landlords receive (or have received) a J-51 or 421-a tax abatement if they have stabilized tenants, receiving a cheque in the mail for the difference.  Obviously, these tax abatements come from the city's budget, in the form of less property tax income. The benefit goes directly to all tenants of stabilized units, in the form of below market rents.
I know what you're saying: "Why are you comparing Toronto and New York?"  "Compare similar cities" Ok. Let's look at Toronto's sister city, Chicago:
Prices look similar right? If you've ever visited Chicago, you know that the Loops (North, South, Loop) are prime real estate areas and if we look at Toronto, rent prices average $1800. Granted Chicago is a city in decline, while Toronto is growing. By this comparison, it seems as though there may be minimal difference.
Trends and Issues Facing Toronto
The media's constant barrage regarding housing prices, and the Ontario government's plan (to keep rent price increases at inflation, or a maximum of 2.5%) has me wondering whether rent is as bad in Toronto as it was in New York in 2009, or even relative to years past have rates in Toronto gone too damn high?
According to apartment search portal Padmapper, the median price for a one-bedroom apartment in Toronto is $1,780 this month, meaning half of all one-bedroom rental units are going for more than that, and half for less.
That's up from $1,370 last October, an increase of 29.9 per cent.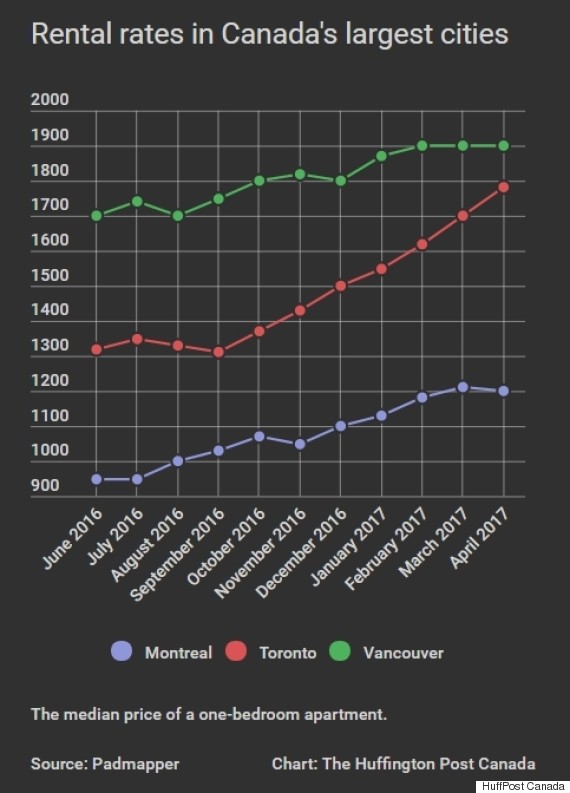 How Much Does it Cost to Rent in Toronto?
According to the Toronto Real Estate Board, the official average monthly prices for rental apartments and condos at the end of 2016 were:
Bachelor apartment:     $1,517 ($1,534 in downtown Toronto)
1-bedroom apartment: $1,819 ($1,923 in downtownToronto)
2-bedroom apartment: $2,567 ($2,864 in downtown Toronto)
3-bedroom apartment: $3,493 ($4,423 in downtown Toronto)
If we look at markets around the world, Toronto does not even crack the top 10, or top 20. Toronto is still a bargain, and bargains can be found throughout the city. And, more importantly, while prices are high in the city's core, once leaving this 13 Sq. Km area price are lower, and spaces are large. The question then becomes, how can things like transportation and bike lanes facilitate those coming in from outside the core.
More importantly, no it won't, in all likelihood be a detached home. It likely will not be a semi-detached home. It will likely be an apartment condominium, and probably not in the Shangri-La. But, that should be ok, so long as government policy provides for increased affordable housing.
http://www.huffingtonpost.ca/2017/04/13/rental-prices-canada-toronto-padmapper_n_15994150.html